ADAU Dual Degree Programme
Our university, which has again broken new ground in its field, has implemented an education programme with a double diploma opportunity with "Azerbaijan State Agricultural University (ADAU)", which operates as the only agricultural university in Azerbaijan. With this programme, it is aimed to improve the workforce in the agricultural sector and its stakeholders, to increase the quality of education and training activities of Azerbaijan State Agricultural University (ADAU) and to provide equal opportunities in education.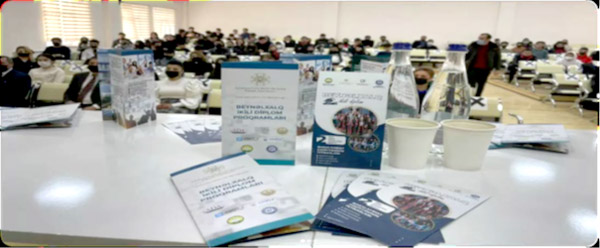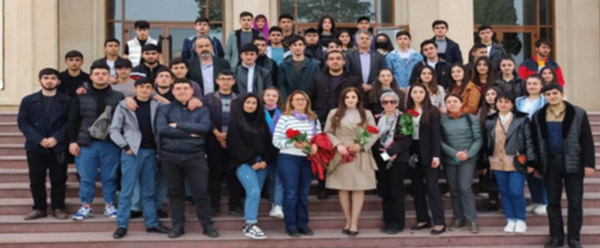 Promotional brochures prepared by ADAU regarding the "Dual Diploma Programme" and our academicians who went to ADAU to teach.
This protocol, which will be a pioneer in the international platform and will be realised under the name of "International Joint Undergraduate Education and Training Programme in the Field of Agricultural Engineering", will be equivalent and simultaneous to the education and training programmes of Ege University Faculty of Agriculture. In this direction, the education-teaching model, methods and assessment-evaluation practices are also equivalent. The duration of education in the programme, which includes Plant Protection, Field Crops, Agricultural Economics, Agricultural Machinery and Technologies Engineering departments, is determined as four (4) years and 240 ECTS credits. A total of 120 qualified students, 30 for each department to be determined from among the candidates by exam, will study in Azerbaijan State Agricultural University (ADAU) for 3 years and in Ege University Faculty of Agriculture for the 4th year. Faculty members and staff assigned within the Faculty will participate in the training to be given in Azerbaijan and will benefit from the physical infrastructure and socio-economic opportunities of Azerbaijan State Agricultural University (ADAU). Similarly, students who will come to our university from Azerbaijan for their 4th year education will be able to benefit from all the facilities within Ege University.
Despite the geographical borders on the map, the fact that Azerbaijan and Turkey, which act together in many areas under the ideal of "Two States, One Nation", have a common history has caused both countries to want to reinforce their investments in the future with cooperation within the framework of systematic approaches. This training programme, which is planned to be implemented, is of great importance in terms of developing and strengthening the ties between the two countries and increasing their cooperation. In addition, it is a source of pride for our country and the Ege University family in terms of being the first international training programme to be put into operation in its field and for Ege University to gain the quality of an institution that can export its own knowledge and experience.